Custom Orthotics in Niagara Falls, ON by
Niagara Family Footcare
5400 Portage Rd., Floor 3 (304), Niagara Falls, ON, L2G 5X7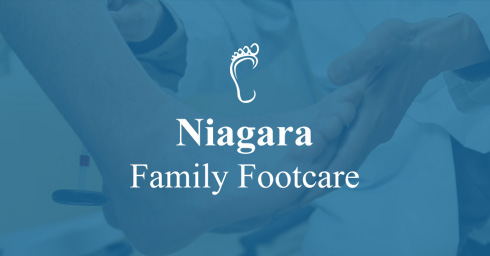 Most of us don't give much thought to our feet until something goes wrong, but your feet are one of the most important parts of your body. They support you. Niagara Family Foot care offers assessment and treatment of variety of foot conditions and ailments.
Niagara Family Foot Care Services:
Custom orthotics assessment & fitting
General foot care
Nail care
Callus and corns
Treatment of fungal disease of the nails and skin
Treatments of verrucas and plantar warts
Diabetic foot care
Arthritic foot care
Ingrown toe nails
Nail surgery (partial and total)
Treatment of tendinitis and fasciitis
Compression stockings
Foot and heel pain, overuse foot injuries
Orthopedic footwear
Foot pain can be caused by a variety of medical conditions including arche-related problems, plantar fasciitis, metatarsalgia and neuritis syndromes.
Services offered by Niagara Family Foot Care are covered by most private extended health plans and WSIB. Call your extended heath plan to find out which foot care services you are covered for or visit our office and we will gladly assist you in explaining your coverage. We have found that many of our patients our pleasantly surprised they have benefits that cover for treatment of foot disorders.
Custom Orthotics and orthopaedic footwear in Niagara Falls. Initial consultation, evaluation of your symptoms, biomechanical examination and fitting.
Custom-Made Foot Orthotics. FAQ.
Why Should I Wear Orthotics?
Custom-made and fitted orthotics can be used to help a number of different lower limb and foot conditions. Some of the most common conditions are high arche or flat foot, knee pain or back pain. Another common condition is plantar fasciitis in which patients complain of heel pain especially that first few steps in the morning.
I Have Had Orthotics in the Past and They Are Too Bulky for My Shoe. How Do I Avoid That?
Here at Niagara Family Foot Care we can design slim line orthotics to fit your needs.
What Should I Expect When I Come in to Get Fitted for Orthotics?
One of our chiropodists will perform a biomechanical and gait analysis to determine what orthotic needs to be prescribed to help reduce pain and symptoms and to control any biomechanical abnormalities of the foot.
What Is the Difference Between Custom Made Orthotics and Insoles I Can Buy Over the Counter?
Custom made orthotics are fabricated from plaster casts or 3D volumetric scans of your feet to help accurately correct any abnormalities. Over the counter insoles are made for a generic foot type and are not tailored specifically for your needs.
Niagara Family Footcare welcomes custom orthotic patients from Niagara Falls, Ontario.
We accept patients from: