Custom Orthotics in Edmonton, AB by
South Edmonton Orthotic
101–4245 97 St. NW, Edmonton, AB, T6E 5Y7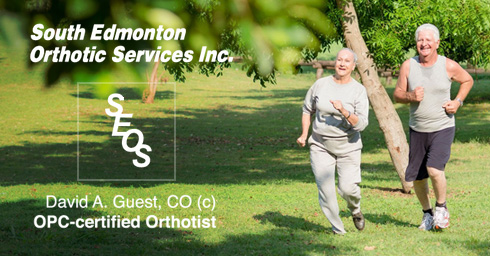 Edmonton Orthotic Services is directed by David A. Guest, CO (c), a certified orthotist The clinic offers a wide range of custom orthotic services to patients in Edmonton, AB and surrounding areas. At South Edmonton Orthotic Services Inc., we take an individual, hands-on approach in evaluating and assessing your unique condition. We offer orthotic services for many conditions that affect proper functioning of the upper and lower extremities. We produce and fit custom orthotics for Edmonton patients.
What is a Certified Orthotist?
To be awarded certification through Orthotics Prosthetics Canada (OPC), an applicant must graduate from an OPC-approved post-secondary clinical school, as well as complete a minimum of 3,450 hours of residency, working directly with prosthetics or orthotics. The residency must also be supervised by a Canadian certified by OPC.
Following residency, the applicant must complete a three-day national exam. Following the successful completion of the exam, an applicant must then be recommended to the OPC board of directors. Upon approval by the board, the applicant is then certified for an initial five years and then recertified in five-year terms.
Custom Orthotics and orthopedic shoes in Edmonton. Consultation and Fitting.
Custom Orthotic Assessment. What to expect.
During your appointment Dr. David will evaluate your condition, discuss your symptoms and the history of the problem and answer all of your questions. Then, following the assessment, Dr. Guest may recommend a brace, splint, or custom orthotic. Orthotics are useful in correcting misaligned ankle or foot and restoring proper mechanical function. Orthotics can help to take the pressure off your feet alleviating symptoms related to trauma, arthritis, carpal tunnel, spina bifida, as well as many neurological and musculoskeletal conditions.
South Edmonton Orthotic welcomes custom orthotic patients from Edmonton, Alberta.
We accept patients from: