Custom Orthotics in Dartmouth, NS by
Arthritis & Injury Care Centre
Park Lane Mall, 1554 Dresden Row, Suite 3070, Halifax, NS, B3J 2K2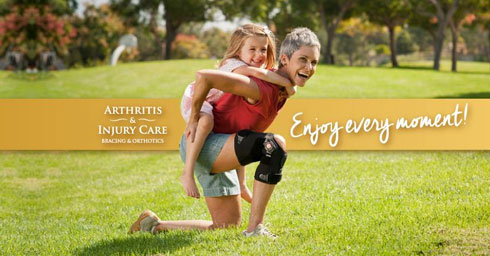 At the Arthritis & Injury Care Centre we take great care in targeting each patient's specific needs. Our goal is to provide the best patient experience with every patient, every time. Our education and experience often suggest that conservative (non-surgical) measures can be extremely effective in many circumstances. We specialize in many minimally invasive procedures that allow a more rapid functional recovery. Regardless of the course of treatment chosen, what sets us apart is the individual care provided to our patients.
The most common reasons for visiting our clinic are osteoarthritis, ligament tears, lower back pain, shoulder pain & instability, ankle instability, plantar fasciitis, diabetes, corns/calluses, carpal tunnel syndrome, tennis elbow and many other conditions when patients are in need of orthopedic consultations and quality orthopedic products.
Custom Orthotics and foot care products in Dartmouth. Assessment & Fitting.
Custom foot orthotics are removable prescription medical devices placed in your shoes to control the function of your feet. Because custom orthotics are built to fit a specific individual exactly, they can correct a variety of foot conditions and biomechanical flaws. The custom orthotics we prescribe at Arthritis & Injury Care Centre are custom-molded. We perform an extensive biomechanical evaluation of your feet, ankles, and legs to determine your specific pathology and what type of orthotics you will need.
Why Custom Orthotics? Orthotics are great for treating a wide range of conditions, including foot pain, back pain, knee pain. There are many reasons why people opt orthotics. Here are a few of them:
Orthotics Absorb Shock: An orthotic insert can absorb some of the shock, preventing joint problems from occurring.
Improve Balance: An unbalanced gait can increase one's likelihood of falling, which can lead to a wide range of injuries. The right orthotic device can provide greater balance and ease discomfort.
Reduce Pain: An act as simple as walking should not be painful. An experienced Chicago podiatrist can prescribe an orthotic device that corrects the abnormal positioning of your foot and ankle and reduces or eliminates pain. An orthotic device is always preferable to foot surgery.
We take pride in your recovery and progress and will work with you through this entire process. Additional follow up sessions can be made to check on your progress with the orthotics, and any other treatment protocol that may be suggested.
Arthritis & Injury Care Centre welcomes custom orthotic patients from Dartmouth, Nova Scotia.
We accept patients from: